[Explained]: Is ClickFunnels good for SEO?
  John /   29 Aug 2023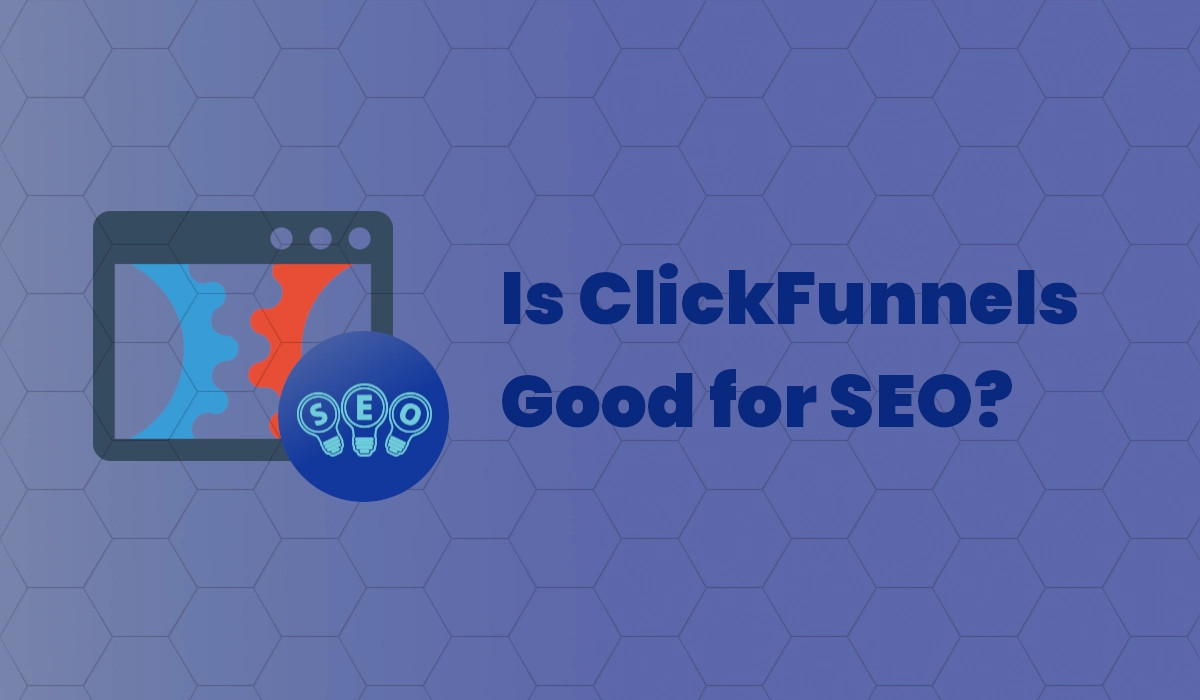 In this digital age, the internet technology has revolutionized how business used to be done. Leveraging the power of the internet enables entrepreneurs and companies to transcend geographical limitations, reaching a global audience with ease, and making much more sales and profits.
The Internet offers a myriad of opportunities for making money, such as selling physical and digital products, and services, doing affiliate marketing, and displaying advertisements among many other ways.
To do these businesses, all you need is to drive a decent amount of traffic (visitors) to your website and then convert them into paying customers.
ClickFunnels is one of the popular platforms used to facilitate online businesses. It's a comprehensive platform designed to create, manage and automate sales funnels – a series of steps that guide visitors towards a specific conversion goal.
With ClickFunnels, you can create landing pages, opt-in forms, sales pages, upsell/downsell pages, membership sites, webinars, LMS (for online courses), and much more.
ClickFunnels aims to simplify the process of creating sales funnels, marketing actions, and everything necessary to convert strangers into loyal customers of your brand without requiring extensive technical knowledge.
Though ClickFunnels was made for and primarily focuses on building sales funnels, a new blogging feature that lets users create web pages and publish blog posts was introduced in ClickFunnels 2.0 which was launched in October 2022.
This made a transition from it being used only as a funnel builder, to an all-in-one platform that can be used to make websites, funnels, and blogs.
Now that we have talked about converting visitors into paying customers, let's talk about obtaining those visitors in the first place.
There are two categories of traffic, paid (e.g. Facebook Ads, Google Ads, etc.) and organic (e.g. Search Engine Optimization).
In the ClickFunnels community on Facebook, almost everyone talks about driving traffic into their funnels through paid advertising campaigns which mostly work well for them and bring a return on investment.
Since hardly anyone talks about driving organic traffic from Search Engines, this brings the question, "is clickfunnels good for seo?"
I will cover that in the next section below.
Is ClickFunnels good for SEO?
ClickFunnels primarily focuses on building sales funnels and doesn't consider SEO as a crucial aspect of a conversion funnel.
ClickFunnels 2.0 is an all-in-one platform that supports the creation of funnels, web pages, and blog posts and offers limited SEO options through the SEO and sharing settings.
However, these settings allow the updating of metadata for the pages such as the title, description, and image which are very basic and not as comprehensive compared to WordPress which is very SEO-friendly and has numerous plugins and third-party tools that allow you to analyze your website's performance and improve your search engine optimization.
Besides offering limited SEO features, ClickFunnels also generates bloated code that isn't very clean semantically (doesn't follow proper code structure) which can have a negative impact when Google is trying to understand and rank the pages.
ClickFunnels' efficiency in creating quick sales funnels comes at the cost of losing vital features that could enhance the long-term online visibility and presence of your business website through organic search results.
Most funnel hackers don't really care much about SEO but instead put more focus on driving traffic from paid advertisements which works well for them.
While ClickFunnels can be used to create a website, it may not be as comprehensive as a website built with a content management system like WordPress which has much more customization and SEO features. If you intend to get traffic from search engines, then ClickFunnels alone may not be the best option for you.
However, you can create a WordPress website and direct the organic search traffic to your funnels built with ClickFunnels for conversion into customers.
Alternatively, you can use WordPress to create the website and install plugins such as WPFunnels and FunnelKit to create sales funnels. These plugins offer users extensive capabilities for building funnels that are tailor-made for WordPress websites.
If you already have a WordPress website and prefer to keep everything within the platform, WPFunnels and FunnelKit plugins emerge as viable choices to fulfill your funnel-building requirements.