How to do Google Search Console Integration on your Website
  John /   31 Aug 2023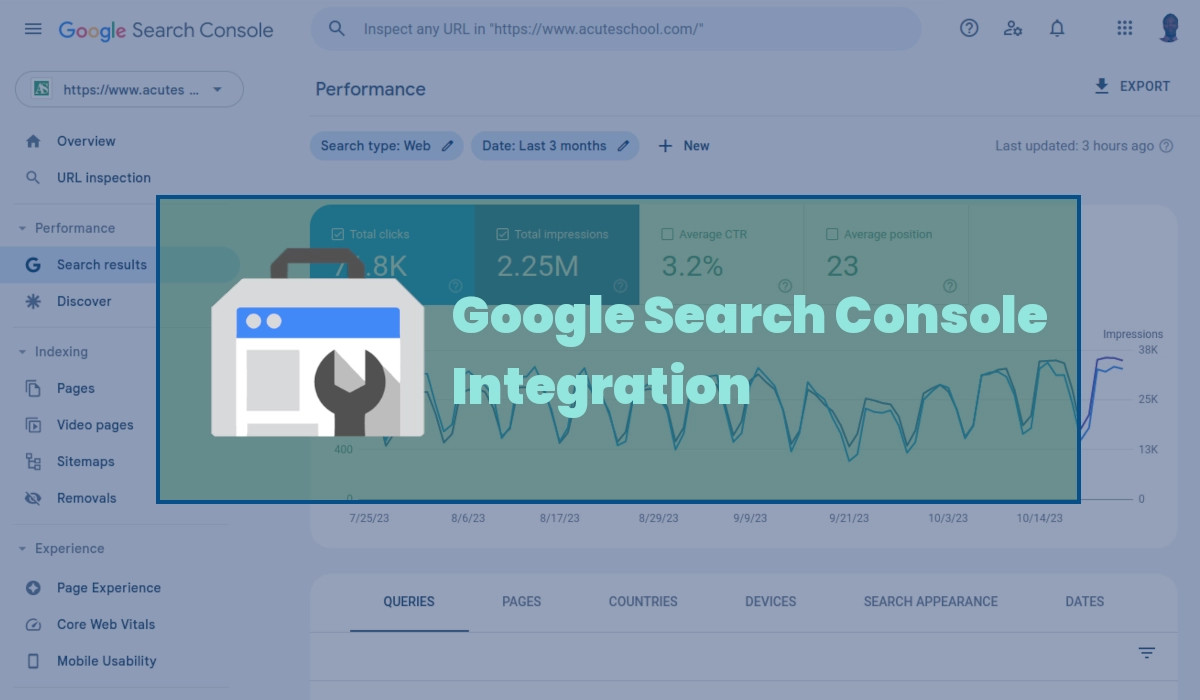 If you own a website, then you definitely need to add it to Google Search Console to help monitor and optimize its traffic, performance, and growth.
In this article, we will cover what Google Search Console is, why it's important, and a step-by-step guide on how to add your website to it.
Google Search Console (GSC) is a free platform by Google that allows website owners to check the indexing status of their website, monitor, and optimize its performance and visibility in Google Search results.
It was formerly known as Google Webmaster Tools until 20th May 2015.
Important features in Google Search Console
Below are just some of the ways you can benefit from having your website on Google Search Console:
It shows you the important search performance metrics (such as the number of impressions, number of clicks, average position in search results, and the average click-through rate) for a particular day or over a specific period of time.
It shows a website indexing report. Through the GSC coverage report, you are able to view the number of pages that have been indexed, those that have been discovered but not yet indexed and those crawled but not indexed.
Website health. Through GSC, you are able to check whether your website has had any security issues. It also shows you pages with errors or warnings and those with user experience and mobile usability issues.
It helps in the website XML sitemap submission to Google. The XML sitemap is a file with a list of all important pages on your website, that helps Google to find and crawl them all as well as understand your website structure. The GSC platform provides functionality to do sitemap submissions.
Through the URL inspection feature, GSC allows you to check the index status of your website's specific pages as well as allows you to manually request their indexing on Google.
It allows you to view the specific terms/keywords your website is already ranking for in Google search results, how many impressions your website is getting for each, and how many clicks it is receiving for each of these terms. In addition to that, it also shows you the average position your website is ranking for these terms and the average click-through rate it gets for them.
It allows you to track your top-performing pages in terms of their position in search results, the number of impressions they get, the number of clicks, and their click-through rates.
Helps in tracking your website's performance in search results in different countries.
Helps you track how much traffic your website is receiving from Google on specific devices (desktop or mobile).
It contains a feature to request the de-indexing of some pages on your website (which you no longer want to be found) from Google search results.
As I mentioned earlier, the above are just some of the Google Search Console features. If I were to mention all, then I would have to change the title of this article. These were to just show you how much you need your website on GSC.
How to add your website on Google Search Console
Follow the steps below to add your website to the Google search console.
Step 1: Visit https://search.google.com/search-console/ to get started. You will be required to have a Google account to do this. If you have a Gmail address, then you already have a Google account. Else, you will have to create one.
If you are not logged in to a Google account, you will see the interface below.

Click on the "Start Now" button to get started. You will be taken to the Google account login page.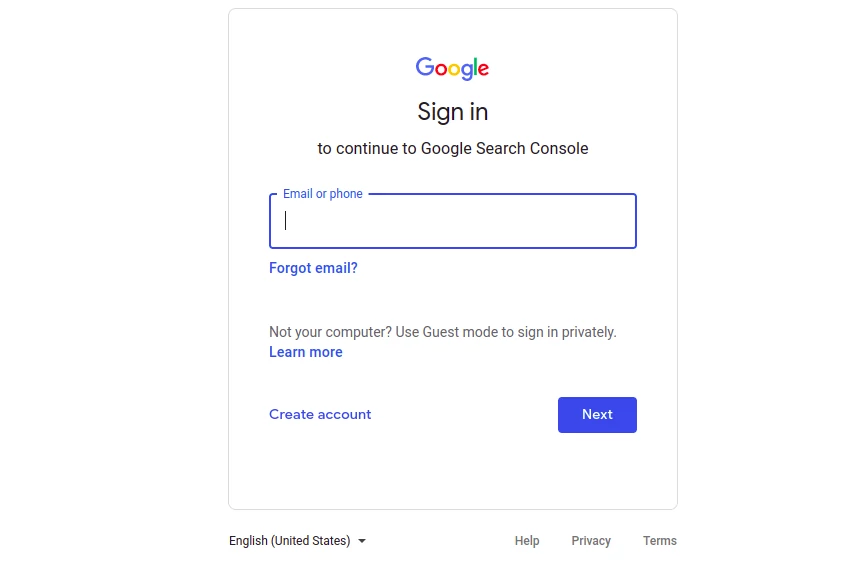 After logging in, you will be redirected to the Google Search Console welcome page, where you will be required to add your first website. This is also the step you would have been directly taken if you had already logged in to your Google/Gmail account with your browser before clicking the link.
Step 2: Choose one option (between Domain and URL prefix) to proceed. Google Search Console needs a way for webmasters to prove that they really own or at least manage the website they are adding to it. Therefore, you must verify your website ownership through either of the two methods. In this tutorial, we will use the "URL prefix" option as it's much easier and quicker.
In the "Enter URL" field, please enter the exact complete URL of your website homepage as it appears in the browser bar (I recommend you open your website on a browser and copy it from the browser address bar). Click the "Continue" button to proceed.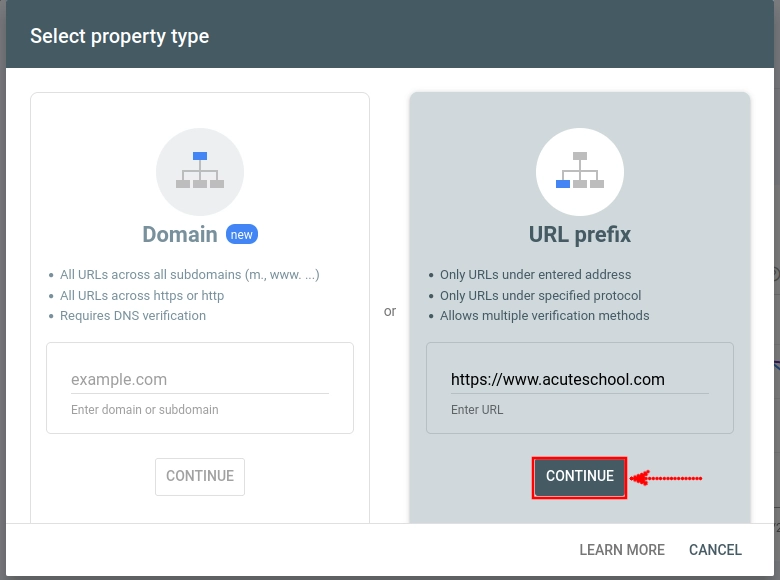 If you already had added Google Analytics to your website using the same Google account, it will be automatically verified as shown below and you will now be set to start monitoring your website performance. Click on the "Go to Property" button.

Else, if you have not added your website to Google Analytics, or for some other reason it has not been auto-verified, you will be provided with several verification options as shown below: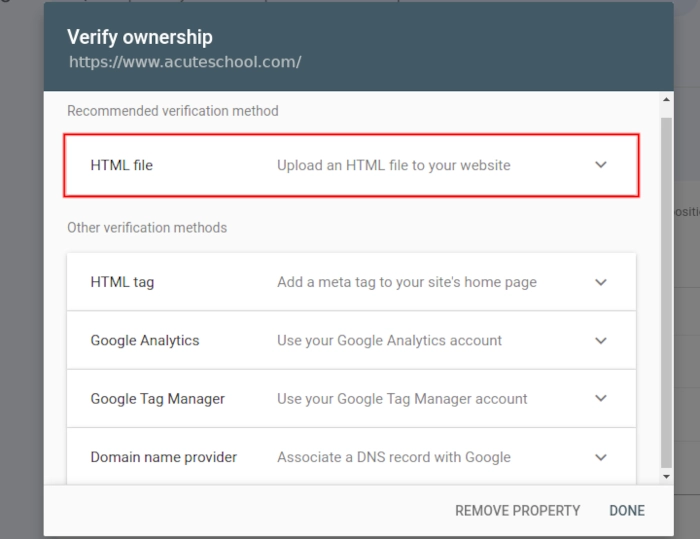 Step 3: Select your preferred method and follow the given instructions. I suggest that you use the recommended verification method, the first option. All you have to do is to download the html file by clicking on it, upload it to your website root directory (the URL given), and then click on the "Verify" button.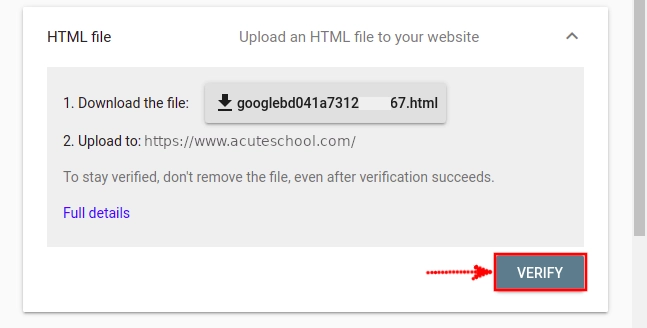 Upon successful verification, you will be presented with the message below.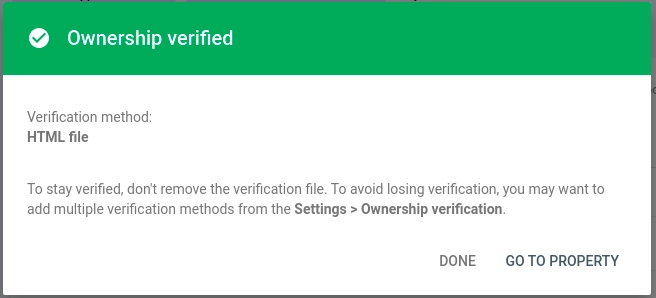 Click on the "Go to Property" button to start managing the site performance. You will be redirected to the overview page of the website in Google Search Console. You won't see any stats at this moment. As instructed, wait for a day or several days in order to start seeing the stats.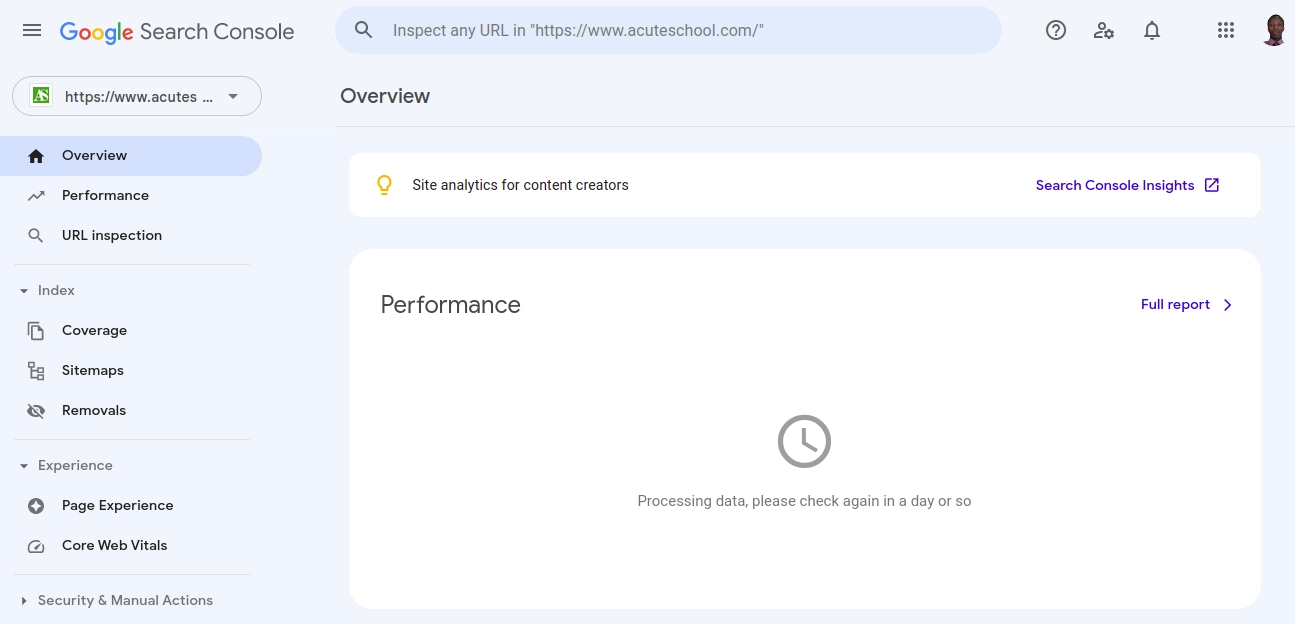 Now if you click on the "Settings" link in the left column you will be able to see that you are the verified owner of the website.

If you return after several days, you will start seeing stats and important insights about your website performance on Google. The Google Search Console is very intuitive and easy to use. No rocket science skills are required.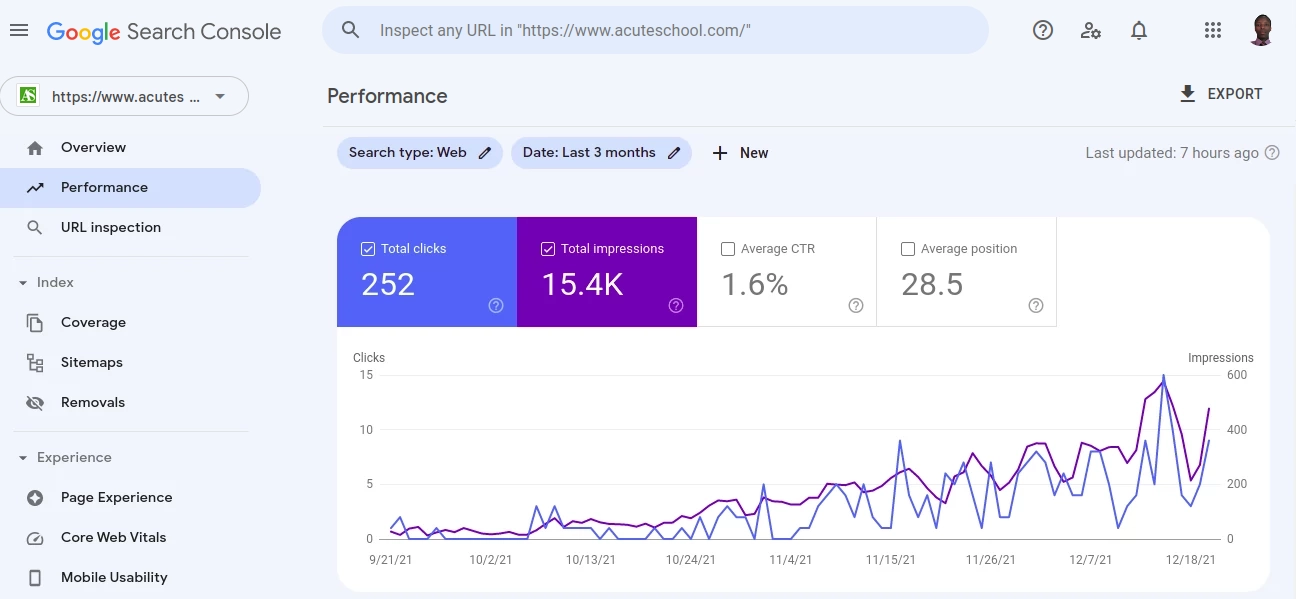 You don't have to create a new Google Search Console account for every website you own/manage. You can add up to a thousand websites to your existing Google Search Console account.
To add a new website, log in to your Google search console account and click on the dropdown select at the top of the left column. Then click on the "+ Add Property" button just below the list of websites you have already added. Then follow the same steps as described above.
Conclusion
Google Search Console is a powerful tool by Google to help webmasters monitor and optimize their websites' search performance. This is a must-have tool, and without it, you will be losing big time.
I strongly advise you to connect your website to Google Search Console the soon as you can to benefit from all its insights.
In this article, we have covered what GSC is, some of its key features, and an easy-to-follow, step-by-step guide on how to add your website to Google Search Console.